Ask yourself how often you fail to finish your bottle of wine with dinner.
If this happens often, there are three ways this usually pans out…
Sometimes, you'll end up drinking another glass of wine you really didn't want and end of suffering the consequences when you feel groggy the following morning.
On other occasions, you may be more disciplined, but end up throwing the remaining wine away and wasting it.
Or, perhaps you think you'll cram the original cork back inside – good luck with that! – or you'll just leave it opened in the door of the refrigerator.
None of these solutions are ideal, though, and it doesn't need to be this way.
The best wine stoppers allow you to keep your favorite reds and whites fresh and drinkable for days – sometimes as long as a fortnight – without any undue effort.
Today, we'll be reviewing a dozen of the best wine stoppers in a range of different styles.
Some of these stoppers are simple natural corks giving you the same sort of service you get from the cork your bottle comes with. Others are more advanced systems involving needles piercing the lid of your bottle and gases inserted into the bottle to ensure your carbonated beverages stay as fizzy as the day they were bottled. We'll also be outlining some champagne sealers designed specifically to keep your unfinished bubbly at its best for a couple of days.
Before we get down to business with our reviews, a general note. If you're looking to store wine in the long-term, you should never try storing unfinished bottles. While a bottle stopper can be highly effective for anywhere from a few days to a couple of weeks, the wine will start rapidly degrading after this relatively short period.
If you want to keep your wine stored for the long haul, there's no substitute for investing in a wine cooler. When you want to store both red wine and white wine, you should prioritize a dual-zone wine cooler.
For those others occasions when you simply want to keep some unfinished wine for the next day, one of these cheap but effective devices is invaluable.
Read on for our honest lowdown on a cross-section of the best wine stoppers coming in at a range of price points. There should be something for everyone here today, so enjoy and never waste your unfinished wine again!
Briccowinebar.com is reader-supported. When you buy via the links on our site, we may earn an affiliate commission at no cost to you.
The 12 Best Wine Stoppers
1.

Our #1 Pick:

 Vacu Vin Wine Saver Pump
Features
75 x 1.4 x 5 inches
Plastic
Conical
If you often have leftover wine after dinner, there's no need to throw it away or let it spoil when improperly stored. The Vacu Vin Wine Saver Pump kicks wastage to the curb.
For households drinking a variety of red and white wines, the universal sizing of this pump lets you deal with any bottles you have on hand.
The key selling point of this device is the efficient vacuum pump. This serves to create the perfect storage environment for your favorite vino.
All you need to do is lift the handle of the pump until you hear a click that alerts you that the ideal vacuum has been achieved. Even if you've been put off using this type of device before, you'll find the Vacu Vin especially user-friendly.
This is a compact and space-saving unit ideal if you travel frequently and find yourself caught short for a bottle stopper on a regular basis and wasting too much wine.
For a one-size-fits-all approach to wine storage at a reasonable price point, you can't beat the Vacu Vin.
Things We Like
Universal stopper that works well with reds or whites
Power vacuum pump
Keeps your wine fresher for days
Things We Dislike
Some reported issues with quality control
---
2.

Runner-Up:

OXO Steel Wine Stopper
Features
5 x 1.5 x 3.5 inches
Stainless steel
Lever-action
A close and worthy runner-up in our quest for the best wine stopper, OXO delivers the attention to detail you would expect from this kitchenware legend.
This is a classic lever-action stopper with a twist. You can also use this device for drip-free pouring. If you're just starting your wine collecting journey, you have doubtless noticed you've started to accumulate a wide range of accessories. The more multipurpose devices like this you can assemble, the less clutter in your kitchen.
Made from robust stainless steel, this stopper should return a lengthy lifespan as long as you look after it. Since it's dishwasher-friendly, there's no excuse not to stay on top of maintenance.
The intelligent design allows for a smooth, consistent flow when you're pouring your wine.
The lever itself is soft and forgiving, a real pleasure to use involving little physical effort.
While we found some isolated complaints about lifespan, the majority of consumer feedback is overwhelmingly positive.
Things We Like
Serves double duty keeping your wine stored in the short-term and opening up to allow drip-free pouring
Rugged build should give you years of service
Dishwasher-friendly
Things We Dislike
A few complaints about lifespan
---
3.

Best Budget:

 Rabbit Wine and Beverage Bottle Stoppers
Features
5 x 4 x 1 inches
Silicone
Round
Rabbit produces a deep bench of wine accessories including these bottle stoppers available in sets of 2 or 4 to suit.
You'll get these silicone stoppers in an assortment of colors and they're capable of keeping bottles sealed airtight so your wine doesn't degrade if you need to store it in the short-term. As with all these stoppers, they are only intended to keep partially-consumed bottles fresh for a short period.
The food-grade silicone and stainless steel means there's no chance of any materials leaching into your wine, and you won't get any taint imparted on your reds or whites.
Like all the best wine stoppers, these silicone gems couldn't be easier to keep clean. They are dishwasher-friendly, too, so there's no excuse to allow bacteria to build up.
As well as great performance across the board, these stoppers from Rabbit are also some of the cheapest you can find, so what's not to love?
Things We Like
Set of 4 stoppers for maximum value
Made from food-grade materials that won't taint your drink
Super-simple to clean and safe to slip in the dishwasher
Things We Dislike
Some reports of stoppers popping out
---
4. Kloveo Champagne Stopper
Features
9 x 2.8 x 2.7 inches
Stainless steel
Self-tightening seal
Are you hunting for some sleek champagne stoppers that do justice to your favorite bottles of bubbly? If so, Kloveo has a great example. It's not cheap, but you can make a slight saving by ordering a pack of 2.
The chrome finish is suitably classy to insert in your half-drunk bottle of Cristal or Krug.
The seal works by expanding inside the bottle, ensuring it's completely airtight.
Designed to slot onto all regular bottle necks, you can also accommodate Prosecco and Cava bottles along with some magnums and some 187ml bottles.
Despite delivering such great performance, this stopper is also very easy to use. All you need to do is push down on the cap and the seal does all the rest for you.
If you're still not convinced, you'll benefit from a 3-month money-back guarantee removing any reason not to add these champagne stoppers to your kitchen counter.
Things We Like
Highly pressurized seal tightens automatically
Maintains the fizz in your bottles of bubbly
Fits all regular champagne bottles
Things We Dislike
Some customers claim the stopper pops out regularly
---
5. Rabbit Champagne and Wine Sealer
Features
2 x 4.4 x 4.9 inches
Plastic
Round
Next up we have another offering from Rabbit with this multipurpose champagne and wine sealer.
This is perhaps the easiest to use of all the sealers we review today. Just pop it on top of your favorite bottle and twist to seal. It's so simple, a child could use this thing.
The understated matte black finish means this stopper won't look like an eyesore on the countertop.
We encountered some blowback from users about the device being occasionally difficult to seal, but we found far more positive user testimony.
While all these bottle sealers are only intended for short-term storage, this is one of the strongest performers out there. You can keep your bubble fizzy and ready to serve up again any time for up to 2 weeks.
You can use this sealer on all sized bottles, even those with wider mouths giving you a versatile and affordable short-term wine storage solution.
Things We Like
Muted matte black finish looks great on the kitchen counter
Works with all sized bottles, even wide-mouthed bottles
Keeps your champagne fresh for up to 2 weeks
Things We Dislike
Quite awkward to seal at times
---
6. Outset Silicone Wine Bottle Stoppers
Features
5 x 5.8 x 2.2 inches
Silicone
Conical
Next up in our collection of the best wine stoppers is a colorful set of 4 from Outset. Coming in at a very affordable price point anyway, the multipack means this represents probably the best value pack on our shortlist.
Although these conical silicone sealers are simple in terms of design, they're highly effective when it comes to wearing an airtight seal.
These stoppers work equally well for wine or champagne if you want to keep your half-finished bottle in the fridge for a few days.
Very rugged, these stoppers are also nicely flexible and you should find them particularly easy to remove, ideal if you suffer from arthritis or joint pain.
The only real gripe we could find about these stoppers was the fact that sizing can be hit and miss, resulting in an occasionally loose fit.
Once you've finished up your leftover wine, you can slip these sealers in the dishwasher for stress-free clean-up.
Things We Like
Preserves an airtight seal ideal for wine and champagne
Multicolored set of 4
Easy clean-up and dishwasher-friendly
Things We Dislike
Some inconsistencies with sizing
---
7. OXO Expanding Wine Stopper
Features
6 x 2.3 x 4.75 inches
Silicone
Expanding
Next up is a nifty expanding wine stopper from the ever-reliable OXO.
The silicone stopper starts expanding outwards when it's inside your wine bottle. This serves to seal in the freshness and keep your vino fresh for several days.
The low-profile design slots neatly into the refrigerator. You can even store your bottles in the door panels or on the top shelf. If you want to store wine for the long haul, you need the bottles to remain sealed and you ideally need a wine cooler. For short-term storage of half-finished bottles, though, the OXO delivers in fine style.
You won't get any slippage from this stopper, and you'll get no leaking either.
The OXO Better guarantee allows you to call in for a refund or replacement if there's any issue with your wine stopper. You can't ask for much more than that.
Things We Like
Stopper expands within your wine bottle to optimize freshness
Sleek profile makes it easy to store your wine bottle in the fridge
No slippage or leakage
Things We Dislike
Some snags with customer service
---
8. MITBA Bottle Sealer
Features
4 x 2 x 1.6 inches
Stainless steel
Rectangular
Are you searching for a pocket-friendly wine stopper that won't let your down or cause your bottles to leak all over the kitchen floor? If so, MITBA has a stainless steel and ABS beauty that's priced insanely cheaply. This is our second-favorite budget wine stopper of the bunch.
Not only do you get a very inexpensive wine storage solution, but you can call in for a refund at any stage during the first 2 months if you're not entirely satisfied with your purchase. You don't get this from many more expensive alternatives.
Thanks to the rugged build, this stopper should last for years.
The integrated pressure pump means the bubbles in your champagne will stay intact even if you stash your bottle of bubbly in the fridge for a few days before finishing it off.
While some consumers have complained about unresponsive customer service, we feel you can't expect too much at this price point.
Things We Like
Stainless steel and ABS build for maximum lifespan
60-day money-back guarantee for peace of mind
Increases pressure within bottle so bubbles stay fresh
Things We Dislike
Customer care is questionable
---
9. Le Creuset Champagne Crown Sealer
Features
6 x 2 x 3.9 inches
Nickel
Switch style valve locks
Le Creuset makes some impressive and high-end kitchenware, so how does this champagne sealer shape up?
As you'd expect from this legendary company, you get a bottle sealer that's both impeccably well-built and intelligently designed. The sealer feels reassuringly solid in your hand. While Le Creuset products are never cheap, you should get a lifetime's use from everything you buy. Ultimately, you're getting unbeatable value even if you need to pay a little upfront.
Thanks to the food-safe rubber seal, you'll be free to store your half-finished bottles on their sides without worrying about leakage.
The valve lock is switch-style in operation, and you can lock in the freshness with a single motion. Ensure your champagne stays carbonated and ready to drink at its finest even if you couldn't resist opening the bottle and sampling a glass or two.
Covered by a 10-year limited warranty, you can buy this champagne sealer with total confidence.
Things We Like
Exceptional brand heritage
Solid build quality and enviable lifespan
Store your bottles on their sides without any leaking
Things We Dislike
Customer service leaves something to be desired
---
10. Coravin Advanced Wine Bottle Opener
Features
9 x 1.9 x 8.4 inches
Plastic
Round
If you have a more fluid budget and you're looking for a wine storage solution with a difference, check out this bottle opening system from Coravin.
If you want to keep wine stored once it's been opened, you need to protect it against oxidation which is where this system comes into its own.
A coated needle will pierce your wine bottle and argon gas is pushed inside to stop the wine from spoiling.
You can then pour your wine without needing to lift a finger, and the contents of the bottle will remain fresh for days.
We would like to see the quality of the build improved slightly. The plastic feels rather flimsy which is a disappointment at this price point.
Even though this is a tech-driven solution, it's also extremely easy to use making for a wonderfully user-friendly experience and a real conversation piece at the dinner table.
Things We Like
Argon gas is introduced to enhance freshness
Remarkably easy to use even for complete beginners
Robust build quality
Things We Dislike
Feels slightly underpowered
---
11. North Mountain Natural Corks
Features
5 x 4.1 x 1.4 inches
Natural cork
Conical
What could be better for popping in the top of your half-finished wine bottles than openers made from natural cork? You'll get a better alternative than trying to cram the original cork back into the bottle, something that seldom ends well. As well as being devastatingly effective, these corks are also pleasingly cheap.
The corks come in bags of 12 with plastic tops on each one. Given the ultra-low pricing, this translates to unbelievably good value per piece.
You can use these corks for sealing a variety of drinks to suit. No kitchen should be without a bag, especially at this price.
A few unhappy customers complained that the sizing seems to vary from cork to cork, so you may not always get the snuggest fit.
Things We Like
Made from sustainable natural cork
Replicates a traditional wine cork with all its benefits
Works well for sealing a variety of beverages
Things We Dislike
Some reported issues with fit
---
12. Cuisinart Champagne Stopper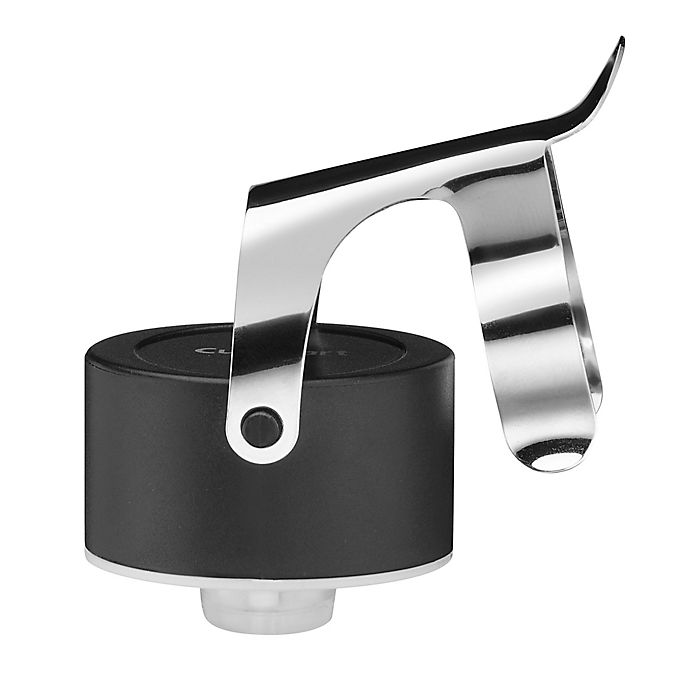 Features
3 x 1.7 x 2.4 inches
Carbon steel
Round
Are you a champagne lover? If so, you'll likely find you don't always finish the bottle and you obviously don't want to waste that precious bubbly. With this Cuisinart stopper, you can keep your Moet or Krug nicely fizzy and good to drink for several days. Although some of the stoppers we review claim they keep your champagne fresh for up to 2 weeks, this unit suggests 3 days of storage.
The stainless steel finish gives you great lifespan in a stopper that's extremely reasonably priced. All plastic components are free of BPA and other contaminants.
The lifetime warranty shows you the confidence Cuisinart places in this product and should inspire you to invest in this awesome accessory.
In some ways, this wine stopper is a victim of its own success. Where it's so popular, it frequently sells out, so act quickly if you want to grab yourself an after-holidays bargain.
Things We Like
Made from hardwearing carbon steel
BPA-free
Lifetime limited warranty so buy with complete confidence
Things We Dislike
Can be difficult to source
---
Conclusion
OK, you should now have a well-rounded idea of a range of wine storage solutions if you frequently find yourself with unfinished bottles you'd like to keep for the next day.
Given the simplicity of these products, we've skipped the buying guide today. The only real element you need to consider is whether you want to keep wine fresh, champagne fresh, or both. You can find plenty of dedicated champagne sealers if you're exclusively a bubbly-drinker. For anyone with broader tastes, many multipurpose bottle stoppers will allow you to preserve both wine and champagne.
We'd ask you to take a moment before you head off to bookmark BriccoWine. We've been hard at work all through the holiday season, and we're excited to be bringing you a great deal of new content for the coming year. Whether you want some impartial advice on buying the best mini fridge or beer growler, or whether you're looking for some tips and tricks about wine, we've got you covered. Come back soon!