Over the course of a year where we have been spending more and more time indoors, many wine lovers have started appreciating BBQs, picnics, and relaxing in the yard more and more.
What can you do if you don't want fragile and breakable wine glasses outside, though?
Disposable cups are not only a very poor choice if you want to enjoy a fresh glass of wine, but they're also bad for the environment.
Luckily, there's a solution and it comes in the form of the best wine tumblers.
Now, these tumblers are usually very similar. As you read through our reviews below, you'll see that's there's very little to choose between them.
Most of these tumblers are made from stainless steel. This should be food-grade, and you should also check there are no toxins like BPA in any plastic components.
Double or triple-insulated, the majority of wine tumblers will keep your vino cold for hours on end. If you prefer drinking champagne, you should consider the flutes we highlight below. The insulation will also help you to keep hot drinks warm for hours.
Many tumblers come with lids so you can enjoy added security if you want a hot drink instead of wine. You'll also find lots of tumblers boasting drink-through lids. This allows you to keep all insects away from your beverage and serves to minimize spillage.
While we don't typically advocate shopping based mainly on price, with wine tumblers, we would argue that budget, design, and capacity are likely to be your main priorities when you're shopping.
So, let's get right down to business now. We curated a lengthy list of the 15 finest tumblers out there. See which of these, if any, seems like the right choice for your al fresco wine drinking.
A final word: we also included a more comprehensive set here with storage for a whole bottle of wine as well as a pair of tumblers. With today's shortlist, we truly wanted to bring something for everyone here at Bricco.
Briccowinebar.com is reader-supported. When you buy via the links on our site, we may earn an affiliate commission at no cost to you.
The 15 Best Wine Tumblers
1.

Our #1 Pick:

 Best Insulated Wine Tumbler – YETI Rambler Wine Tumbler
Features
10oz
Stainless steel
5 x 3.5 x 4.5 inches
If you're looking for one of the best wine tumblers you can find but you don't want to spend a fortune on glassware, YETI serves up a modern classic with the Rambler.
The tumbler comes in thick and sturdy food-grade stainless steel. You'll get no rust, excellent lifespan, and impressive durability. Choose from a dozen colors to suit.
The 10oz capacity means you have more than enough space for a generous glass of wine without any of the restrictions of drinking from glassware. Whether you're out in the garden or down on the campsite, these tumblers are a smart investment for wine on the go.
With double-walled insulation, you can keep your wine cold or your coffee hot in this thing for hours on end.
Once you're done with your wine, these tumblers are safe to pop in the dishwasher saving you any of the hassle of clean-up.
Most user testimony for this tumbler is overwhelmingly positive, but a few users have complained that the seal could be tighter.
Things We Like
Wide choice of colors
Double-walled vacuum insulation
Food-grade 18/8 stainless steel build
Things We Dislike
The seal could be tighter
---
2.

Budget Pick:

 YETI Rambler Wine Tumbler
Features
12oz
Stainless steel
75 x 3.75 x 5 inches
If you've been hunting for a great wine tumbler on a budget, Maars Bev has a superb option available singly or as a 2-pack.
There are 35 colorways to choose from with a range of sleek finishes on a stainless steel build.
The 12oz capacity means you'll get a generous serving of your favorite red or white.
Despite the capacity, overall dimensions are fairly compact.
Designed to keep drinks either hot or cold, you'll get all-day endurance whether you want to keep your wine chilled or your coffee toasty.
The 18/8 stainless steel is very easy to keep clean, and it won't rust either. The double-walled insulation is a nice touch at this price point.
Among a glut of positive user reviews, we found a few isolated instances of consumers moaning about some leakage. We'd advise being especially careful if you're carrying hot drinks in this tumbler.
Things We Like
Class-leading choice of colors
Keeps drinks cold for 9 hours
Space-saving form factor
Things We Dislike
Some complaints about leaking
---
3. Sw'ell Stainless Steel Wine Tumbler
Features
10oz
Stainless steel
3 x 3.3 x 3.2 inches
Sw'ell has an elegant line of wine tumblers giving you the ideal vessel for drinking your preferred reds and whites even if you're outdoors.
Choose from a wide variety of designs and colors schemes to liven up your kitchen.
The 10oz capacity is enough for a reasonable serving of your favorite wine. If you feel the need for something more substantial, we review several roomier vessels.
Made from the favored 18/8 stainless steel, you get the ideal combination of durability and refinement. There's a good reason most of the best wine tumblers are made from this stuff.
Triple-layered insulation ensures that the wine in this tumbler stays nicely chilled for hours and hours. The tumbler is also designed to completely inhibit condensation.
The mouth of this tumbler is wide, while the thin rim makes it easy to drink from and super-simple when it comes to adding ice.
The only serious gripe we could find about this tumbler was the fact it's not dishwasher-safe.
Things We Like
Triple-layered insulation
Great choice of designs
Thin rim and wide mouth
Things We Dislike
---
4. SUNWILL Insulated Wine Tumbler
Features
12oz
Stainless steel
5 x 3.7 x 3.6 inches
Sunwill's insulated wine tumbler is available in 15 different colorways. You can also pick up a 2-pack if you're looking for even greater value.
Insulated double-wall technology keeps wine cool and drinkable for 6 hours. You can also use this tumbler to keep tea or coffee hot for up to 3 hours.
The premium food-grade stainless steel is sturdy enough to return years of faithful service, and it won't taint your favorite wines either. The tumblers are also reasonably lightweight, sweat-proof, and they'll never rust either.
Unbreakable and remarkably easy to wash, these are among the best wine tumblers you can find. Choose from single tumblers or you can buy multipacks of 2, 4, or 6 tumblers so you can cater for all the family and some guests.
12oz capacity gives you a nice large serving of wine, or coffee if you prefer hot drinks in your tumbler. Although there's a lid, there's no cover for this tumbler. That's about the only drawback we could find in an otherwise highly capable all-rounder.
Things We Like
Food-grade stainless steel
Sweat-proof finish
Double-walled vacuum insulation
Things We Dislike
---
5. Corkcicle Stemless Glass
Features
12oz
Stainless steel
15 x 3.15 x 4.33 inches
We have another great 12oz tumbler up next, this time from Corkcicle.
Choose from a variety of finishes, some plain and some patterned. All tumblers are fashioned from the stainless steel that arguably makes for the best performance.
Triple insulation ensures that the wine in your tumbler stays chilled for hours, perfect if you're lounging in the backyard or out in the RV.
The design is intelligent across the board. The bottom is designed not to slip and slide when you set it down. The sides of the tumbler are flattened out so it sits nicely in your hand. There's a silicone band that's removable so you can keep the tumbler clean and prevent any bacteria from accumulating. The overall experience is pretty close to perfect.
A spill-resistant lid makes things safer and easier if you're out and about.
Although this tumbler attracts almost universally positive reviews, a scattering of customers claim the rubber bottoms feel rather flimsy. This aside, you're in safe hands with Corkcicle.
Things We Like
Triple-insulated stainless steel
Flat and ergonomic sides
Spill-resistant lid
Things We Dislike
Rubber bottoms feel insecure
---
6. HITSLAM Wine Tumbler
Features
12oz
Silicone
2 x 3.9 x 3.7 inches
If you have guests over for dinner, there's obviously nothing better than drinking wine from some attractive glasses. How about if you need to drink outside in the yard, though? What about picnics, BBQs, or the campsite? Well, these tumblers from HITSLAM are rugged and built to withstand some rough and tumble.
The silicone build of these tumblers sets them apart, and you'll also benefit from food-grade stainless steel.
12oz capacity is enough for a generous snifter of your favorite beverage.
These tumblers are multipurpose, so you can keep your wine chilled or your hot drinks warm for hours. As with most of these products, you can enjoy cool wine all day long, while hot beverage stay hot for up to 3 hours, ample for the morning commute with your favorite coffee.
You get no BPA and no other toxins or contaminants either, so relax with your feet up rather than worrying about your health.
The lid contains a straw so you can keep your wine or coffee covered while still sipping away, perfect if you're outdoors.
Choose from 4 subtle colorways to suit and enjoy your drinks at their best all day long, even if you're away from home.
Things We Like
Straw lid for total convenience
Free of BPA and toxins
Non-slip bottom
Things We Dislike
Straw quality could be improved
---
7. Cupture Insulated Wine Tumbler
Features
10oz
Plastic
16 x 8 x 7 inches
If you're looking for some pocket-friendly wine tumblers that won't let you down, Cupture delivers a set of 8 plastic tumblers that look like real wine glasses but have much more durability.
Each set comes with a variety of differently colored tumblers so you have something for all the family.
The double-walled construction keeps your wine at perfect drinkable temperature, and saves you from needing to warm a glass in your hands.
Although the lid is not spill-proof, it is designed to prevent minor spillages. You should still exercise caution, though.
You won't need to worry about BPA or any other contaminants with this tumbler so you can focus on relaxing with your favorite vintage.
The 10oz capacity is smaller than many of the tumblers on our list, but you should find this adequate unless you enjoy especially large servings.
Things We Like
Set of 8 tumblers
Double-walled insulation
BPA-free
Things We Dislike
Not effectively spill-proof
---
8. Swig Life Insulated Wine Tumbler
Features
14oz
Stainless steel
5 x 2.75 x 5 inches
Swig Life serves up some excellent insulated tumblers to liven up any BBQ or picnic. If you want to enjoy some wine without the headache of potential broken glass, tumblers fill the gap nicely.
The choice of over 20 colors and prints is class-leading, and this will probably be the most time-consuming element of your buying decision.
The other factor that elevates this tumbler from the opposition is the 14oz capacity. If you like super-generous servings of wine, you're in luck here.
The 18/8 stainless steel build ensures you get a lightweight, rust-proof, and toxin-free build that should give you years of faithful service.
Once you've finished up your wine, slip this tumbler in the dishwasher for hands-free clean-up. What more can you ask for?
Well, the one thing we would have liked to see is a straw included. One is available, but you'll need to pay extra. The only other drawback here is some reported leaking from a handful of users. Overall, though, this is one of the best wine tumblers on the market.
Things We Like
Enormous array of colors
Thick 18/8 stainless steel
Dishwasher-friendly
Things We Dislike
Some issues with leaking reported
---
9. Chillout Life Wine Tumbler
Features
12oz
Stainless steel
2 x 4.5 x 2.5 inches
Chillout Life brings you some fun and cost-effective wine tumblers in a range of striking colors. What do you get for your small investment, then?
Well, off the bat, the low price is one of the key selling points. Unlike many cheap tumblers, though, these ones actually work.
The tumblers come in packs of 2 or 4 to suit. You can also opt for a couple of bundles to mix things up further.
Ensure your wine stays chilled for 9 hours so you are well catered for even if you're out on the campsite or in the RV all day long. The splash-proof lid also comes in handy when you're out and about.
As well as the standard double-walled insulation, you also benefit from some additional thermal copper piping resulting in triple-tiered insulation for maximum efficiency.
Approved by the FDA and free of BPA along with all other toxins, you can kick back at the end of a hard day with no niggling health concerns.
Things We Like
Splash-proof lid
Keeps drinks cold for 9 hours
Wide choice of colorways
Things We Dislike
---
10. BrüMate Insulated Champagne Flute
Features
12oz
Stainless steel
2 x 3.6 x 3.5 inches
What can you do if you're a champagne lover but you want some vessels to enjoy your bubbly when you're outdoors? Well, these stainless steel champagne flutes from BrüMate solve that problem head-on.
The 12oz capacity might not seem like much, but this translates to almost half a bottle of bubbly. With this flute, you'll ensure your Krug stays fizzy and cool all day long.
The manufacturer builds in a drink-through lid that allows you to enjoy double the capacity with improved functionality thrown in.
The food-grade stainless steel used guarantees these flutes won't break or shatter even if you drop them outside on the patio.
With a wide assortment of colors to choose from, inject some fun into your gathering with these durable, drinkable flutes that will never let you down.
The BevGuard technology baked in means your champagne stays colder for longer without imparting any kind of metallic taste to spoil the experience.
Things We Like
Accommodates almost a half-bottle
Keeps champagne cold and carbonated
Triple-insulation
Things We Dislike
Quality control can be lacking
---
11. Romantic Stemless Wine Tumbler
Features
12oz
Stainless steel
5 x 8 x 5.4 inches
Romantic offers a set of 6 exceptional stainless steel tumblers giving you the perfect vessels for outdoor gatherings, BBQs, picnics, or trips out in the RV or on the campsite. How do these tumblers stand out, then?
Well, in many ways they don't stand out, and that's what makes them so good. Let's face it, you don't want the wheel reinvented when you're looking for the best wine tumblers. Instead, you want something that securely keeps your wine cold and won't smash if you drop it on the floor outside. In all respects, these tumblers deliver.
The 12oz capacity translates to almost a half-bottle of wine, which should be more than enough for most purposes.
One small niggle about these tumblers is that they are not dishwasher-friendly. As long as you're OK with that, you'll get outstanding value for money and a delicate stemless design to set off any gathering. See what you think!
Things We Like
Set of 6 for all the family
Food-grade stainless steel
Lid for added versatility
Things We Dislike
Doesn't work well in dishwasher
---
12. Coleman Claret Insulated Wine Glass
Features
13oz
Stainless steel
3 x 4.5 x 2.6 inches
Coleman makes a range of flasks and tumblers ideal for keeping hot drinks warm and your wine icy cold. Why should you consider investing in this particular tumbler, then?
Firstly, you'll be buying into great brand heritage and a wealth of expertise. Coleman has been addressing this issue for decades, and you'll enjoy first-class insulation.
5 colorways gives you at least some choice, although many brands offer more variety if that's what you're looking for.
The stainless steel is durable and versatile. It's used to make most wine tumblers for a good reason, after all.
The pad on the bottom is thoughtfully placed so your tumbler won't slip and slide around if you set it down on a smooth surface.
Now, while these tumblers look great out the box, you should handle them with care. A few users have reported that they pick up scratches easily, so if this is likely to bother you, consider some of the other tumblers we review. If not, you'll be delighted with your new Coleman.
Things We Like
Keeps your wine cold for 6 hours
Contoured, ergonomic shape
Bottom pad minimizes slippage
Things We Dislike
---
13. CeramiSteel Insulated Wine Glass
Features
9oz
Ceramic-coated stainless steel
1 x 3.1 x 4.5 inches
Maybe you've been comparing all these larger tumblers and you decide you need something a little smaller and more delicate. If so, this 9oz tumbler from CeramiSteel is well worth popping on your shortlist.
The stainless steel is coated with ceramic, but what does this achieve? Well, the chip-resistant lining ensures you get no metallic taste tainting your favorite wine without forcing you to go without the durability of stainless steel. It's a double-win at a price so low you'll be surprised.
A powder coating is applied over all of this and the tumbler is dishwasher-friendly to streamline cleanup.
A vacuum seal allows you to drink cool wine for hours without needing to refill your glass.
We would have liked to see a lid on this tumbler to give improved security when you're outdoors, but aside from this, we feel this is one of the most cost-effective and efficient wine tumblers on our curated list. Give it a try and you won't look back.
Things We Like
Range of striking pastel colors
Lightweight and smooth lining
Dishwasher-safe
Things We Dislike
---
14. Winesulator Wine Tumblers
Features
14oz
Stainless steel
8 x 3.5 x 4.6 inches
If you have deeper pockets and exacting tastes, we have a set of wine tumblers from Winesulator that might take your fancy.
The Winesulator is roomy enough to accommodate a whole bottle of your favorite wine or bubbly. You also get a pair of Uncork'd insulated tumblers, both with a 14oz capacity large enough for more than a half-bottle of wine or bubbly.
A combination of the capacity, additional bottle storage, and eye-catching design makes this set perfect if you frequently entertain and want some tumblers with a difference.
Crowned by a no-quibbles lifetime warranty, you can buy with confidence knowing that the manufacturer has your back. Customer care is swift and responsive.
The only real downside here is the reasonably high price, but considering what you get in return, we'd argue this set represents unbeatable value.
Things We Like
Elegant and efficiently insulated
Keeps wine cold for 24 hours
Pair of tumblers and Winesulator
Things We Dislike
Certainly not the cheapest tumblers
---
15. WimlyMugs Monogram Wine Tumbler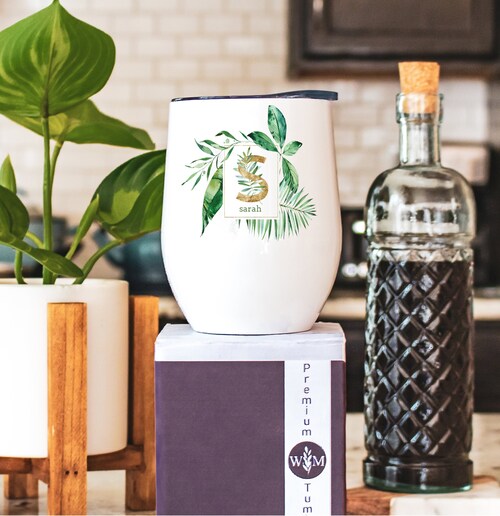 Features
12oz
Plastic and metal
5 x 3.5 x 4.5 inches
We saved the best for last with this personalized wine tumbler for someone special in your life.
The key selling point here is the way the tumbler comes emblazoned with your name or initials. Whether you treat yourself, the whole family, or you buy one of these tumblers as a gift, whoever receives it will be overjoyed.
Luckily, it's not a case of form over function here. The tumbler is highly effective for keeping your wine cool for hours.
The metal and plastic build is not as robust as some of the other tumblers on our shortlist. If you're looking mainly for durability, we'd suggest a stainless steel alternative. If you're happy with someone slightly more flimsy, these tumblers will work well.
A stainless steel straw allows you to reduce your eco-footprint while drinking comfortably from this tumbler.
Despite the individualized nature of these tumblers, they're priced very keenly, so what are you waiting for?
Things We Like
Personalized with your name
BPA-free lid
Stainless steel straw
Things We Dislike
---
Conclusion
If you pitched up here today seeking clarification on your search for the best wine tumblers, you should now have everything you need in place to make the right decision the easy way.
Choosing the right wine tumblers is one of the easiest decisions you'll face. Compared to choosing a wine cooler or an ice maker, for example, you have very few variables to worry about. To this end, we skipped the buying guide today. Focus on the capacity and materials, and then think about pricing. Get that right and you'll find the best wine tumblers with ease.
Now, before you head off today, take a minute to bookmark BriccoWine. We're here to help you every step of the way as you move from a wine collecting beginner to a dedicated oenophile. We have a great deal of content planned and coming your way over the coming months, so we'll see you soon!